Homecoming 2020: Day 1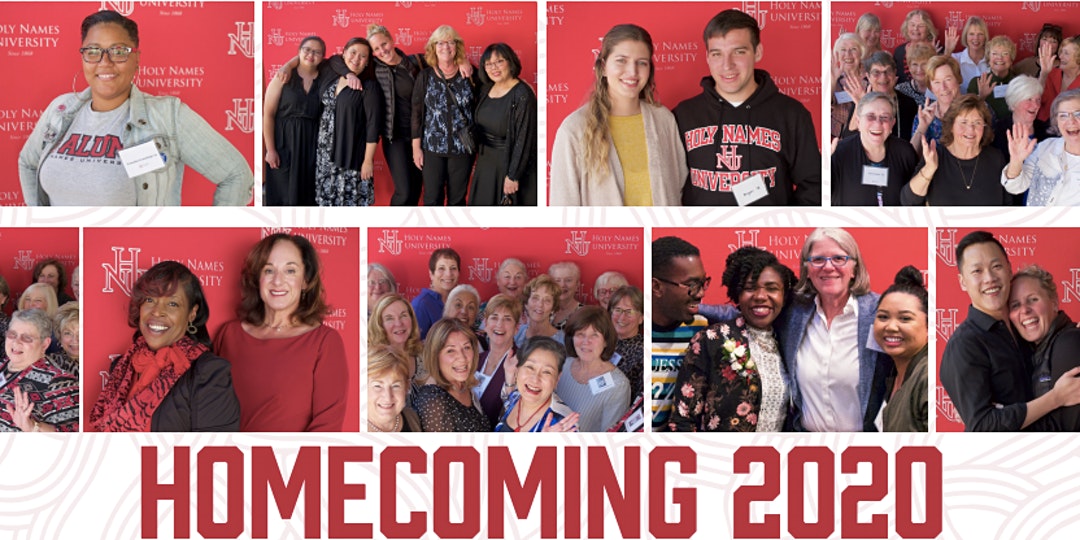 Homecoming 2020 is going virtual! RSVP Here.
FRIDAY, OCTOBER 9
5 – 6:30 PM | Class of 1970 Virtual Reunion
Join classmates to reflect and reconnect as you celebrate "50 years of Service, Substance, and Spirit." (The Class of 1970 will be invited to celebrate its 50th reunion in person in 2021).
6 PM | All-Alumni Welcome Reception
All are welcome to kick off Homecoming weekend with this virtual happy hour.
7 PM | 47th HNU Alumni Awards
Celebrate the 2020 recipients of the Outstanding Faculty Award, the Alumni Recognition Award, the Alumni HNU Service Award, and the Young Alumni Award. (Honorees TBA)
SATURDAY, OCTOBER 10
9 AM | Morning Workout
A mindfulness workout with HNU strength & conditioning coach Juan Garcia.
10 AM | Brunch with the President
President Mike Groener and Vice President for University Advancement Mary Boivin-McGhee lead a conversation about fall 2020 at HNU. Mike and Mary will discuss who our students are, how we're supporting them, and how the University is responding to constantly changing health and social justice landscapes.
11 AM | School of Education presents: Books & Beats
Join the School of Education to discuss Dapper Dan's memoir Made in Harlem, which follows the author's journey from humble beginnings to breaking barriers as a pioneer of high-end streetwear. Experts in the field will discuss fashion influences in Hip Hop both locally and internationally, and will explore Hip Hop fashion's deep African roots.
11 AM | School of Nursing presents: A Snapshot of Service
Today, many nursing students obtain their clinical experience not in hospitals, but at community centers, clinics, and other organizations in the Oakland community. In this session, HNU nursing students and local partners will share stories of student leadership amid the rapidly changing landscape of healthcare education.
1 PM | HNU Athletics Trivia
Join HNU Athletics' sports information team to see how much you know about the history of HNU Athletics. Winner will receive a prize!
1 PM | HNU SOARS: Re-Imagining Academia at Holy Names
Explore the blueprint for an academic experience that reflects HNU's diverse student body, encourages lifelong learning, and prepares students for leadership roles after graduation. Dr. Sheila Smith McKoy, HNU's Provost and VP for Academic Affairs, will lead the conversation.
2 PM | Tea with the Sisters
In this session, the Holy Names Sisters will discuss the SNJM core values: which values attracted them to the order, how they see those values lived today, and how to sustain the values in our rapidly changing world.
3 PM | Afternoon Workout with HNU Athletics
Chelsea Smithback '17, women's tennis alum, will lead a virtual full-body workout.
3 PM | Dedication to Justice: Striving for Antiracism and Activism
Learn about the steps HNU is taking toward being an antiracist community both on and off campus, and how you can participate in that effort. Conversation led by Sheila Smith McKoy (Provost and VP, Academic Affairs), Laura Lyndon (VP, student affairs), Mary Boivin-McGhee (VP, Advancement), and Shaylah Ellis '19 (alumni activist).
4 PM | Homecoming Mass
A special alumni-focused, Sunday vigil Mass will honor the feast day of Blessed Marie Rose Durocher, SNJM foundress. Hosted by HNU Campus Ministry, we invite you to join with the Class of 1970 and members of our HNU community as we celebrate all alumni and remember those who have passed away this year.
5 PM | Nursing Alumni Mixer: "Let's Wine Down: Caring for Ourselves in Crucial Times"
Come network with HNU nursing alumni and faculty, and discuss tools and tips for self-care in a time of unprecedented healthcare challenges.
5 PM | HNU Athletics Reunion
Hear news and updates from Athletic Director Debbie Snell and assistant director Esteban Contreras. Then, split into breakout rooms for networking and activities specific to your sport.
5: 30 PM | School of Education Alumni Mixer
Network with fellow HNU education alumni, and hear updates on the School of Education from Dean Kimberly Mayfield, CRED '94, EdD.
6 PM | Alumni Trivia Night
Join fellow alums from all programs and classes for a friendly, HNU-themed Kahoots trivia competition. Includes prizes for the winners!