Live and learn in a place you will love to call home.
YOUR HOME AWAY FROM HOME
Welcome to Residence Life
It's so much more than a dorm room. It's sharing a coffee at Rosie's Cafe and chatting over lunch at the Public Market. It's attending residence events that help you develop deep bonds with your neighbors. It's forming friendships you will have for life. It's a living and learning environment you'll love calling your home.
Living on campus is not only a great time, but studies have shown that students who live on campus have an especially positive college experience. This is a unique opportunity to form friendships and build strong ties with other residents from a variety of backgrounds. It's also a fun way to find your place at HNU.
• Be a member of an open and welcoming residential community
• Learn more about the resources available to enhance your HNU experience
• Develop invaluable communication and conflict resolution skills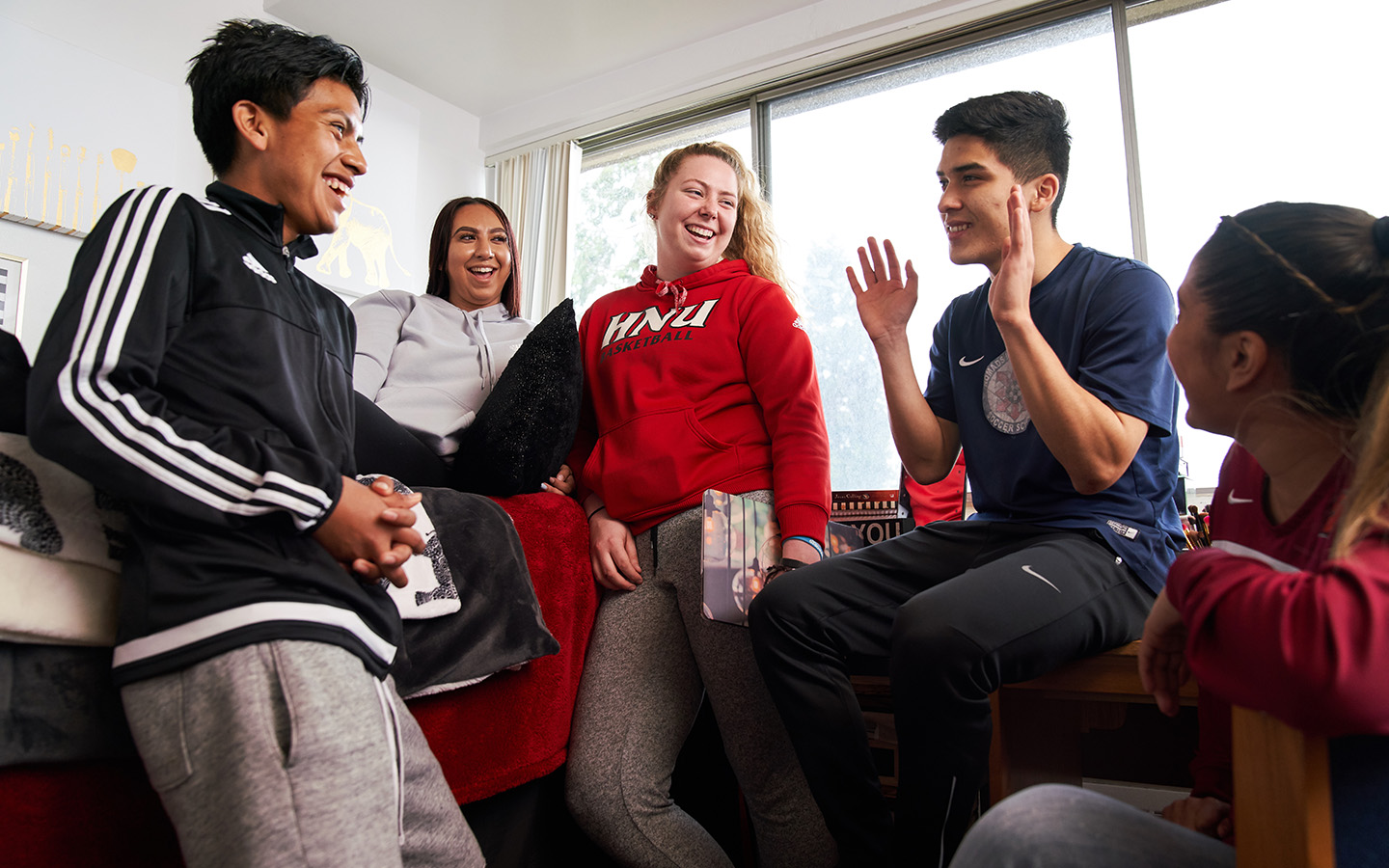 You've got options
Living on campus
Living on campus is affordable and our residential communities offer many options to choose from. Whether you are beginning your collegiate experience or continuing your education, the Office of Housing & Residence Life encourages you to consider the many benefits of campus living and invites you to join our residence life community.
Campus housing resources
More important information
Housing Application Process
Complete the 2020-2021 Housing Application
Check back in March of 2020 for our live housing application.
New students applying for housing for the 2020-2021 academic year can expect to receive their housing assignments in late July via email.
Submit Your $100 Housing Deposit
Choose from the following payment options:
Pay online (selecting Housing Deposit as your payment option)
Mail a check or a money order to:
Office of Housing and Residence Life
Holy Names University
3510 Mountain Boulevard
Oakland, CA 94619
Turn in your cash, check, or money order at the Housing and Residence Life Front Desk in Durocher Hall
Note: If your Estimated Family Contribution (EFC) is zero, you may be eligible for having the housing deposit waived. To be eligible to waive your housing deposit, please provide proof (the SAR section of your FAFSA or confirmation from your admissions counselor) to either residencelife@hnu.edu or vacca@hnu.edu.
Submit Your Housing Acceptance Form
It is best to complete this when you pay your $100 housing deposit. Even if your housing deposit is waived, you still need to complete the Housing Acceptance Form.
New students only: Submit your immunization records
Records should include tetanus, MMR, TB, Hepatitis B and meningococcal immunizations.
Linens Program
In addition to checking out our list of what to bring and Frequently Asked Questions, parents and students are encouraged to visit the Residence Hall Linens Program page. This page has affordable options for high-quality bedding, bath and storage supplies for students guaranteed through graduation. This is the easiest, most convenient way to make sure a student has everything they need for their new "home away from home."
Also, please check out www.bedbandits.com for some great mattress toppers for our extra-long twin beds! For every 3 mattress toppers they sell to HNU students, they donate 1 to a shelter in the Oakland community.
Move-In Information
New student move-in will take place starting at 10 am on Saturday, August 17 at the entrance to Dunn Hall.
Continuing student move-in will take place starting at 9 am on Sunday, August 18 at the Housing & Residence Life Front Desk in Durocher Hall.
Additional information about move-in will be provided to all students via email with their room assignment.
Any other questions?
Feel free to contact the Director of Housing and Residence Life, Justin Vacca, with any questions or concerns at residencelife@hnu.edu or (510) 436-1500.