Live and learn in a place you will love to call home.
Your home away from home
Welcome to Residence Life
It's so much more than a dorm room. It's sharing a coffee at Rosie's Cafe and chatting over lunch at the Public Market. It's attending residence events that help you develop deep bonds with your neighbors. It's forming friendships you will have for life. It's a living and learning environment you'll love calling your home.
Living on campus is not only a great time, but studies have shown that students who live on campus have an especially positive college experience. This is a unique opportunity to form friendships and build strong ties with other residents from a variety of backgrounds. It's also a fun way to find your place at HNU.
• Be a member of an open and welcoming residential community
• Learn more about the resources available to enhance your HNU experience
• Develop invaluable communication and conflict resolution skills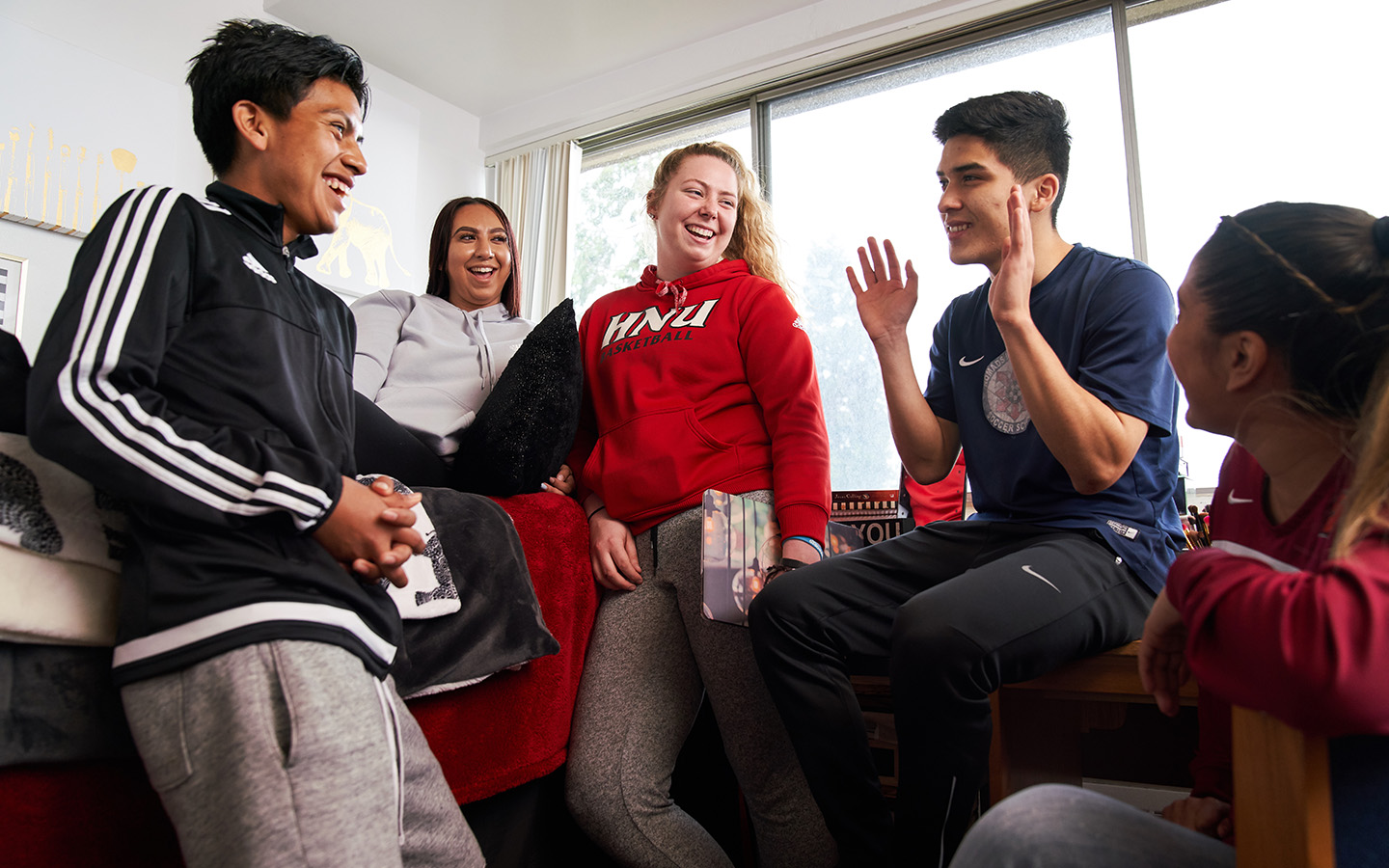 You've got options
Living on campus
Living on campus is affordable and our residential communities offer many options to choose from. Whether you are beginning your collegiate experience or continuing your education, the Office of Housing & Residence Life encourages you to consider the many benefits of campus living and invites you to join our residence life community.
Campus housing resources
More important information
Step 1: Complete 2021-2022 Housing Application
Click here to apply for 2021-22 On-Campus Housing Application
Log In is the same at Hawks edge/ Student Portal. Username: (no @my.hnu.edu); Password: same as all log ins
New Spring Housing Applicants (First Years/ Transfers, Continuing, & Graduate):
o    ALL New Residents for Spring 2022 will need to complete a Spring 2022 Housing Application to be eligible for On Campus Housing. Priority Deadline for New Residents for the Spring 2022 semester is December 15th, 2021 by 11:59PM.
o    Housing Assignments for those who complete and submit their housing application & agreement, new/updated immunization record, and housing deposit by the Priority deadline will be sent out on January 4th, 2022.
§  Spaces will be offered on a first come-first serve basis. Once we reach capacity, applicants will be placed on the Housing Waitlist. Housing will only be offered to those who complete and submit their housing application & agreement, new/updated immunization record, and housing deposit.
Step 2: Submit your Immunization Record
All new and current students must s

ubmit their immunization record

& COVID

19

vaccine

documentation
Click here to submit your Immunization Record & COVID19 Vaccine Documentation
The Office of Housing and Residence Life at Holy Names University is committed to protecting the health and well‐being of our students. Therefore, the university is implementing procedures to ensure that students are educated about and receive vaccinations to prevent potentially serious and contagious diseases. Please visit the Resident Portal for Vaccination Information details. 
Step 3: Submit Your $100 Housing Deposit
The housing deposit is to hold your place in the housing application process. Housing deposits are credited to the student's accounts and are non-refundable.
Choose from the following payment options:
Pay online (select Housing Deposit as your payment option)
Mail a check or a money order to:
Office of Housing and Residence Life
Holy Names University
3510 Mountain Boulevard
Oakland, CA 94619

Turn in your cash, check, or money order at the Housing and Residence Life Front Desk in Feehan Hall

 
Note: If your Estimated Family Contribution (EFC) is zero, you may be eligible for having the housing deposit waived. To be eligible to waive your housing deposit, please provide proof (the SAR section of your FAFSA or confirmation from your admissions counselor) to residencelife@hnu.edu.
Linens Program
In addition to checking out our list of what to bring and Frequently Asked Questions, parents and students are encouraged to visit the Residence Hall Linens Program page. This page has affordable options for high-quality bedding, bath, and storage supplies for students guaranteed through graduation. This is the easiest, most convenient way to make sure a student has everything they need for their new "home away from home."
Important Dates
New Student Move In: January 7th – 9th
Continuing Resident Move In: January 8th – 9th
Spring Housing Dates: January 10 – May 11, 2022
Spring Break: March 7 – 13, 2022
Spring Move Out: May 11th, 2022 (May 15th, 2022 for graduating students)
Any other questions?
Feel free to contact the Assistant Director of Housing and Residence Life, Ang Banez, with any questions or concerns at residencelife@hnu.edu or (510) 436-1500.