Campus Dining and Meal Plans
Check out your options for meals, snacks, comfort food, and more.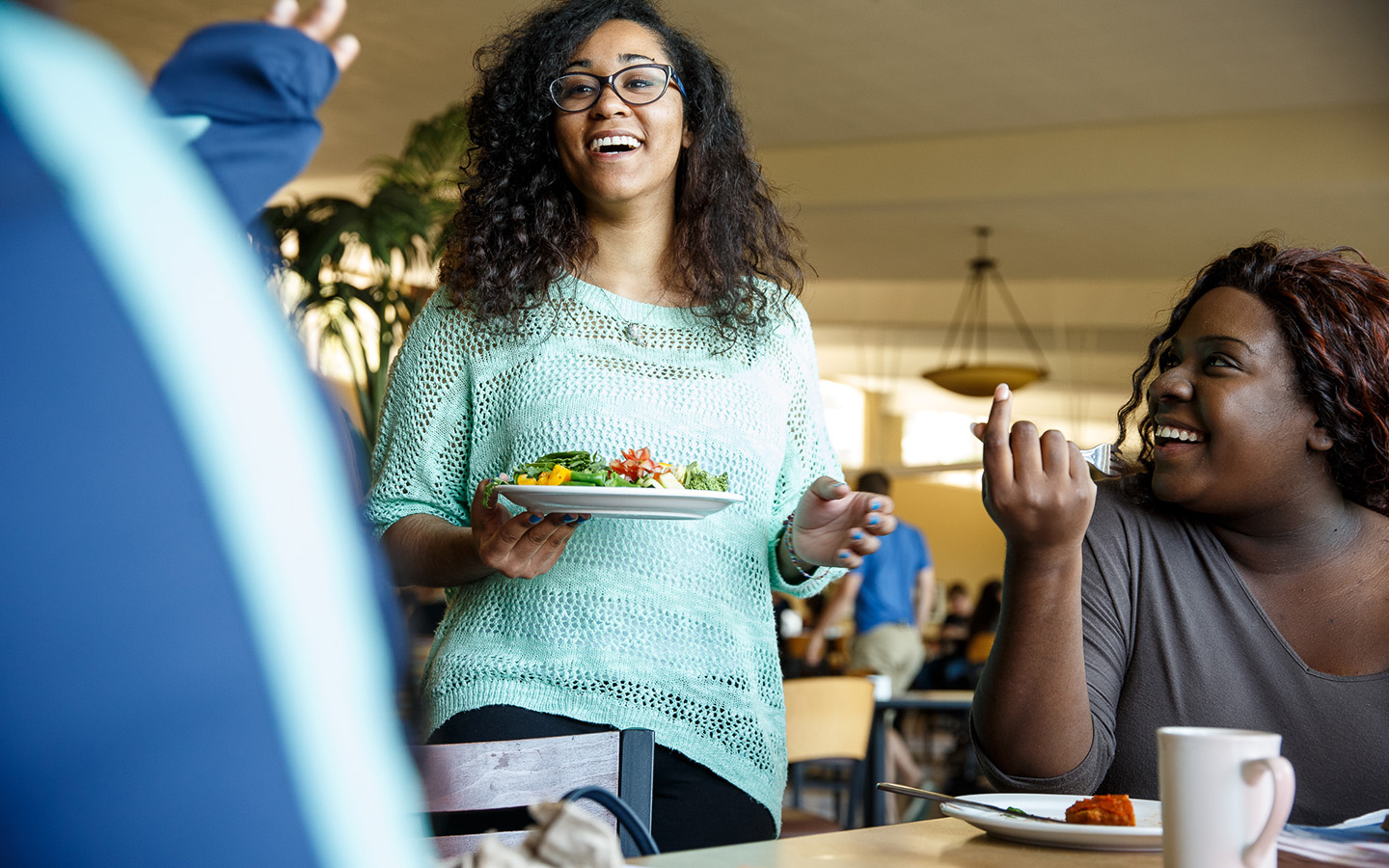 enjoy a meal with us
Grab a bite, stay a while
Holy Names University dining options offer food for all occasions: from salad bars and Taco Tuesdays with fresh, local ingredients to regular BBQs on our patio. Students, faculty, staff, and other community members enjoy the chance to connect in our Public Market, at Rosie's Cafe, or in our many courtyards and patios throughout campus.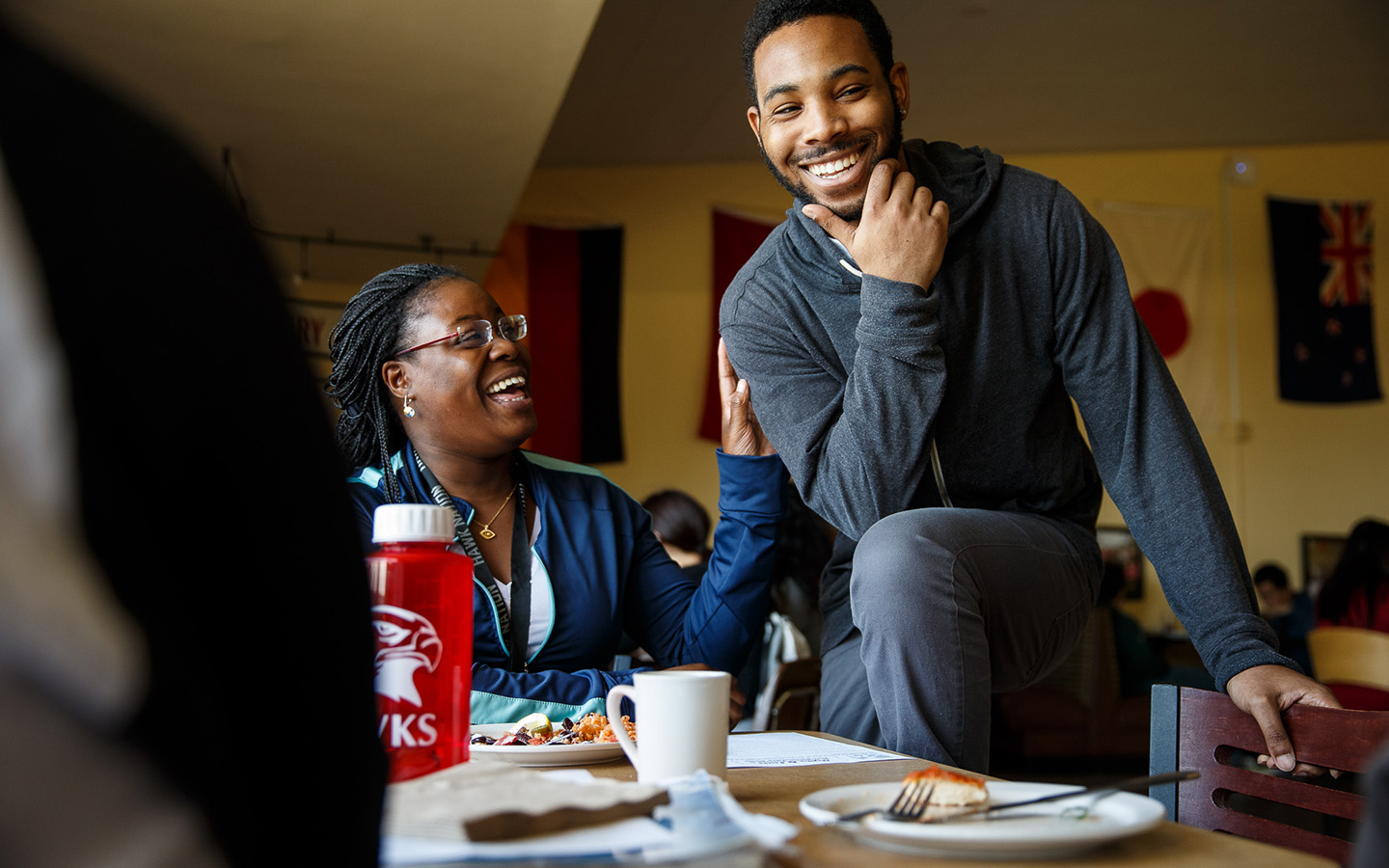 A community gathering place
The Public Market
Located between the McClean Chapel and Soda Commons, The Public Market at HNU is the main dining room on campus. Our campus community enjoys fresh and local food, socializing, events, and a spectacular view of the Bay. Food and service is provided by The Epicurean Group, a company dedicated to sustainable dining that supports local, organic farms, and ranches.
Visit Epicurean
View Public Market menu
Public Market Hours
Weekday Hours:
Breakfast: 7:30 a.m. – 9:30 a.m.
Lunch: 11:45 am to 1:45 pm.
Dinner: 5:00 p.m. – 7:30 p.m.
Weekends and Holidays
Brunch: 10:30 a.m. – 1:00 p.m.
Dinner: 5:00 p.m. – 7:00 p.m.
Eating on-the-go
Rosie's Cafe
Grab a coffee and a pastry, or one of our popular burrito bowls at Rosie's Cafe in Brennan Hall. A few other menu highlights are our savory tostada bowls, tacos, and paninis, as well as our tempting espresso drink and snack selection. A meal exchange program is available for anyone with a dining plan. Wondering how we got our name? Rosie's Cafe is named after Sister M. Rose Emmanuella Brennan.

Meal Plans
All students living on campus are required to maintain a meal plan. Exceptions to this policy are granted on a case-by-case basis to those who complete the process for requesting an eligible waiver. To request a waiver, start by contacting residencelife@hnu.
Waiver and refund requests will not be considered after the
2-week deadline.
| | | | |
| --- | --- | --- | --- |
| Meals per week | Fall 2022 | Spring 2023 | Total Academic Year |
| 14 ($100 Flex dollars/Semester) | $3,451.50 | $3,451.50 | $6,903 |
| 19 ($25 Flex dollars per Semester) | $3,451.50 | $3,451.50 | $6,903 |
The 19-meal plan offers breakfast, lunch, and dinner on weekdays, and brunch and dinner on Saturdays and Sundays when the University is in session.
Students who opt for the 14-meal plan may choose their contracted number of meals at any of the meal times offered during the week (i.e., students are limited in the number of meals served each week, not particular meals).
Both meal plan options come with "flex dollars" that allow students to eat at Rosie's Cafe (a la carte) or to use for extra meals in the Public Market. 
Both meal plans include 10 guest meal swipes each semester, so visitors can also enjoy the dining options.
Prorated Charges
If a student plans to move off campus prior to the 2-week deadline for meal plan changes and end both their meal plan and housing contract, we can work with that. A prorated charge will be placed on their student account [including all fines resulting from breaking the contract(s)], to reflect the value of the meal plan to the date the student checks out of their room. 
Students wishing to move off-campus and break the housing and meal plan contract after the 2-week deadline will not be granted a prorated charge for their meal plan; prorated charges for housing may only be available up to the date provided in the housing contract. 
In situations where a student needs to leave the institution (for reasons other than discipline) after the 2-week deadline, charges will be evaluated on a case-by-case basis.