Midweek Wisdom
Waiting Spirit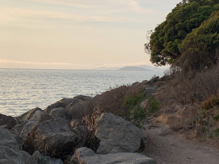 "As we tread the same path, let us extend a hand to one another to surmount the difficulties that present themselves."
-Blessed Marie Rose, Foundress of the Sisters of the Holy Names of Jesus and Mary
Today we wait. Pause. Breathe.
We realize the work is not over. The painful divisions are alive. Our country is fragile and broken, yet resilient. In this moment there is an invitation to pause, collect ourselves and get ready for what comes next.
This is when our spiritual practices can support us – in the middle times, in between times, uncertain times. As a community rooted in the vision of the Sisters, we may want to take a moment today to recognize that their journey has always been one of standing firm in uncertainty. Their legacy has always been about offering hope (through education, empowerment, hospitality and love) to us.
Are we ready to extend our hand to surmount the difficulties that lie ahead?
Well, to be honest, I am not sure I am ready right at this very moment to do that!
Even so I do trust my own reservoir of faith and this community we have at HNU.
How will you nourish yourself today and connect with those in your trusted community?
Today Campus Ministry is offering a quiet virtual space for you to pause and take care of yourself in a safe space for our community to convene. The doors of our beautiful McLean Chapel will be open from 12-1:30 (Zoom ID 502 905 5546) for you to enter, stay for a while or make a quick visit. This is a place for personal reflection. Soft music will play and Campus Ministry staff will be available to chat privately with anyone seeking connection. As well, our amazing Counseling Services is offering space for conversation and support at 1pm today (email Curtis@hnu.edu for log in details/password) where you can seek dialogue with one another.
These are some ways to stay connected and not isolate as we prepare to live into the history that surrounds us because whatever emerges…all of us will be asked to bring our whole selves into the future of our nation.
And that is the invitation. For each of us to come deep into ourselves and once again commit to be the change we want in our world.
The deep well of our higher power is ready to greet us. She is ready to help us work towards just action for the common good however our election results end up. These moments of waiting, like today, are opportunities to listen to her and to cultivate our own resolute, grounded heart.
We are living in a time that calls for us to be courageous, determined, kind and hopeful.
To be that for the long haul means making time for our souls to be nurtured and for our community to be full of love.
May our today be our day of rest and may tomorrow be our day of readiness.
Campus Ministry
Mid-Week Wisdom is compiled by HNU Campus Ministry to encourage each person in our community to make time for the sacred pause throughout the week. Please email Jenny directly if you have responses, reflections to share or questions about any of our offerings. Jenny would be thrilled to connect with you!
Evelyn Fierros, Graduate Assistant
Jenny Girard Malley MA, Co-Director
Fr. Sal Ragusa SDS, Co-Director
@hnucampusministry (IG)
510/599-9417
campusministry@hnu.edu