We can't wait to celebrate your achievements together.
Celebrating in new ways
We rejoice with you as you journey toward Commencement.
The information provided on this webpage is designed to help you navigate the deadlines and forms that are required to graduate and participate in the commencement ceremony. You will also find detailed information about the ceremonies, academic attire, and helpful suggestions for making the most of this special time. If you have any questions along the way, please feel free to reach out!
Class of 2022 Commencement Events
On-Campus Commencement Mass
Friday, May 13, 2022 at 4:00 pm
Corrigan Courtyard
WATCH RECORDING
The Commencement Mass is for undergraduates, graduates and credential/certificate students. The Mass will be celebrated on Friday, May 13 at 4pm in the Corrigan Courtyard. The Catholic Mass is planned in part by members of the graduating class and much care is taken to include the diverse religious traditions present on campus. Academic gowns and hoods are worn for the Mass.
__________
Graduate Student On-Campus Commencement Ceremony
Friday, May 13, 2022 at 6:30 pm
Corrigan Courtyard
WATCH RECORDING
Each graduate will be given 4 parking passes.
__________
Undergraduate Student On-campus Commencement Ceremony
Saturday, May 14, 2022 at 4:30 pm
Corrigan Courtyard

WATCH RECORDING
Each graduate will be given 4 parking passes.
__________
Accessibility Information
Parking for guests with disabilities is available on a first-come, first-served basis in the upper lot near the Valley Center for the Performing Arts.  Drop-off is also available in this area. If you need accessible seating or other accommodations for any Commencement Event, please contact Rebecca Whitney, Disability Support Services Coordinator (dss@hnu.edu).
Commencement Deadlines
Order Commencement Attire by April 17, 2022
All students intending to participate in the May commencement ceremonies must place their order online prior to the deadline. The cost of the attire – consisting of a gap, gown, tassel, degree-specific hood (or stole for credential and certificate students), and stole of gratitude – is covered by your graduation fee. The deadline for ordering attire is April 17, 2022
Commencement Attire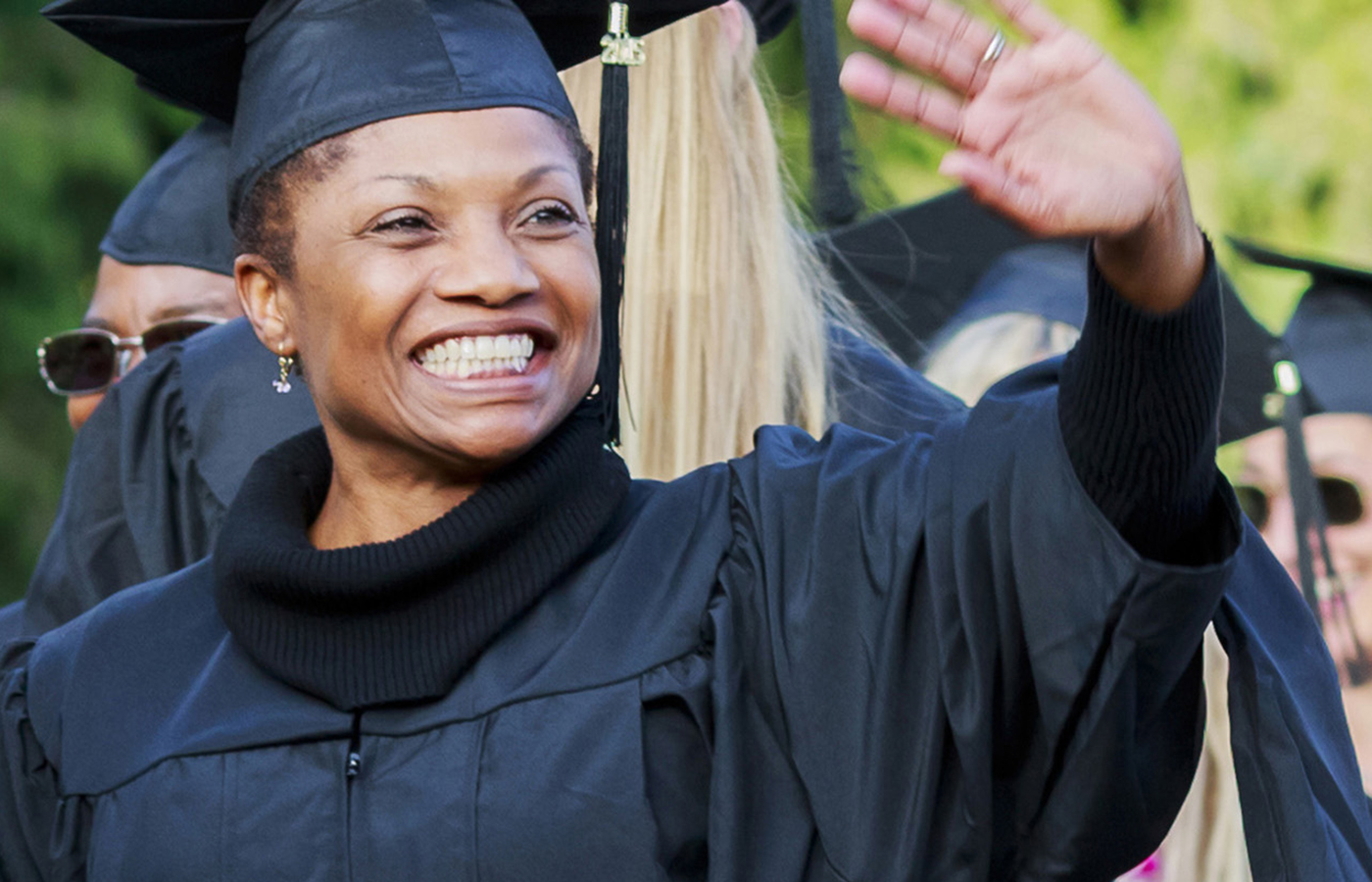 Commencement Deadline
Pay Student Account Balance by May 1, 2022
Pay your student account balance by May 1. Log in to the Student Account Center to review your account and make a payment.
Login to Student Account Center
Class Rings
Order Your Class Rings
Simply go to jostens.com and select Holy Names University. Design a ring and then save it under the your email address. Questions? Email Penny Osorio at penny.osorio@jostens.com.
Order Class Rings Here
Commencement vs. Graduation
What's the difference?
You may hear the two words used interchangeably, but there's a difference between graduation and commencement! Graduation is the completion of all degree requirements as recorded on your official transcript. Commencement is the ceremony that celebrates the completion of a degree. While encouraged, participation in the commencement ceremonies is not required.
Commencement Archives
Learn more about our past Commencements