2019 Commencement: the strength of diversity and values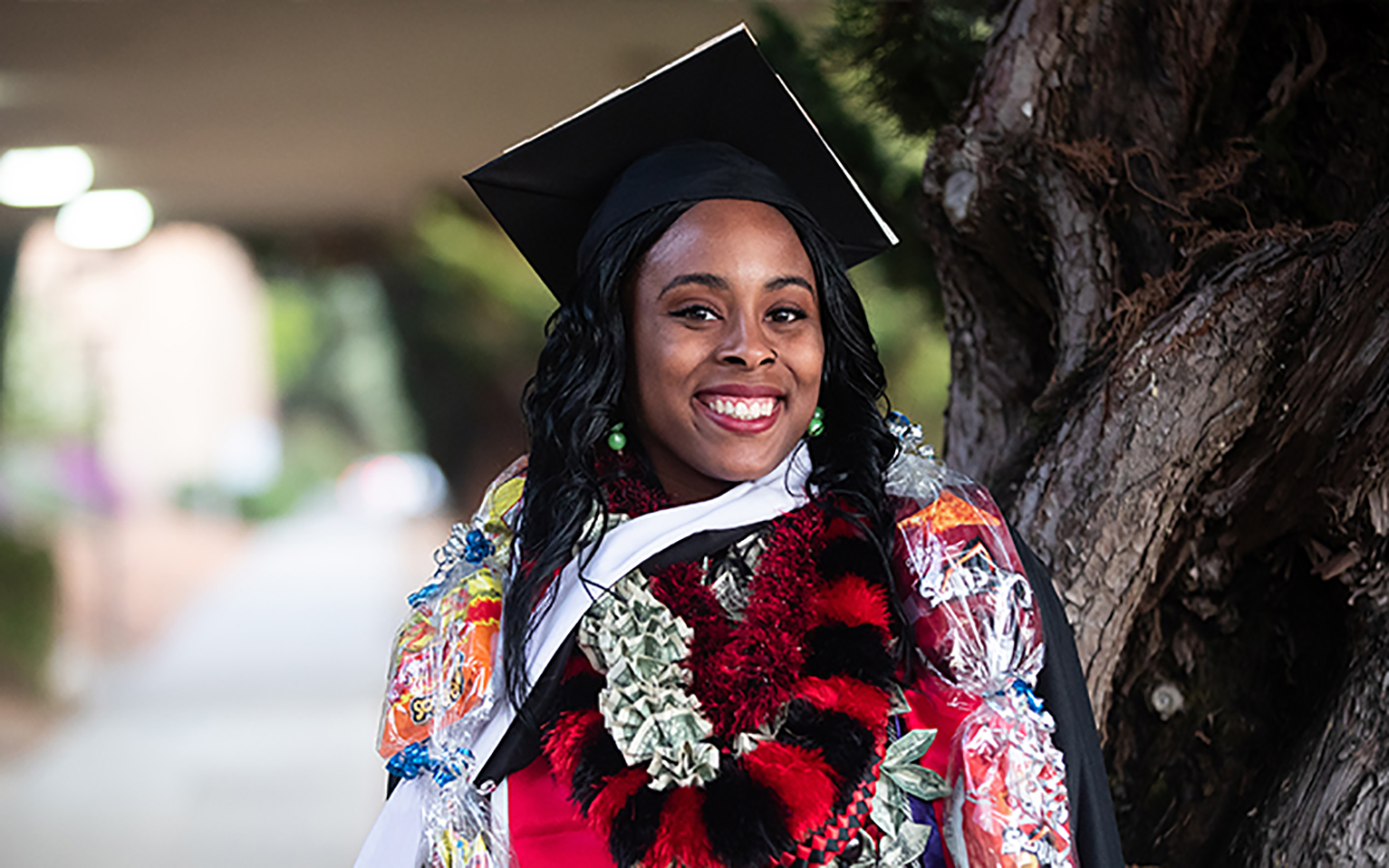 This year, the Holy Names University commencement ceremonies rang in a few firsts: the first time a faculty member received the Faculty Mentorship Award (Anastasia Prentiss, PhD), the first time a graduate received a marriage proposal (Congratulations, Nicole Stark '19!), the first time the University culminated its 150th anniversary year, and the first time the Class of 2019 descended the campus' prominent staircase as new graduates.
The May 10 and 11 commencements showcased the strength of Holy Names' diverse, values-driven community. During the ceremonies, the speakers highlighted the importance of diversity and learning from each other.
In his welcoming remarks, President Michael Groener commended the recent graduates on their hard work and perseverance before asking them to acknowledge those that encouraged and supported them.
"Look around," he said. "See if you can spot someone in the crowd that helped you to this moment. And give them a standing ovation."
Dr. Betty Uribe, the keynote speaker at the graduate commencement ceremony, spoke about her journey escaping violence in Columbia and the values-based decision-making that led to her current success as a business executive and author.
"The values you developed here during your time at Holy Names will always stay with you. Your values will be your guiding light for the rest of your life," said Dr. Uribe.
She called on graduates to "Learn—and give it away. Apply—and bring others with you. Lead—with a higher purpose. And grow—while inspiring others to grow. Forever in service, as true servant leaders."
During the undergraduate ceremony on the following day, Shaylah Ellis '19, ASHNU student body president and proud Oakland native, spoke about her successes, relatable struggles, and the many ways she and her classmates brought diversity into the conversation at HNU.
"I didn't relocate, but many of you did and that made me feel like I was somewhere else. You all taught me about your original homes. By sharing your experiences, you gave me a deeper love for my own hometown and created a core value of diversity in me. We all come from different walks of life."
Expanding on Ellis' appreciation of community, Mikaela Johnson '19 spoke of her experience attending HNU as an older student, "A non-traditional student cannot succeed without the traditional students. It is together that we have worked. It is together that we have studied for exams and worried about our GPAs. It is together that we ate in the cafe cramming for a midterm. It is together that we look to tomorrow.  It is together that we sit here ready to accept our diplomas. It is together that we leave this university as graduates ready to enter the world of our futures."
The keynote speaker, Paul L. Cobb, publisher of the Oakland Post, urged graduates to, "Thank your parents, your relatives, and your teachers and administrators and tell them that you're going to continue to organize—to seek justice—because that will define your path. You must define your path and not let your path define you."
Cobb urged each graduate to "Be a Hawk that 'prays', not one that 'preys' upon your community."
"Graduation is not the end of your educational journey, the word commencement means a new beginning, so let's commence together," said Cobb.
At the end of the ceremony, students from the graduating class honored Dr. Anastasia Prentiss with the newly created Faculty Mentorship Award to show their appreciation for her guidance and inspiration.
Holy Names awarded Cobb and Dr. Uribe with honorary Doctorate of Humane Letters degrees.
If you missed the ceremony, you can watch Dr. Betty Uribe and Paul L. Cobb and address the Class of 2019 here: