2019 Founders' Day: a special tribute to remarkable staff and faculty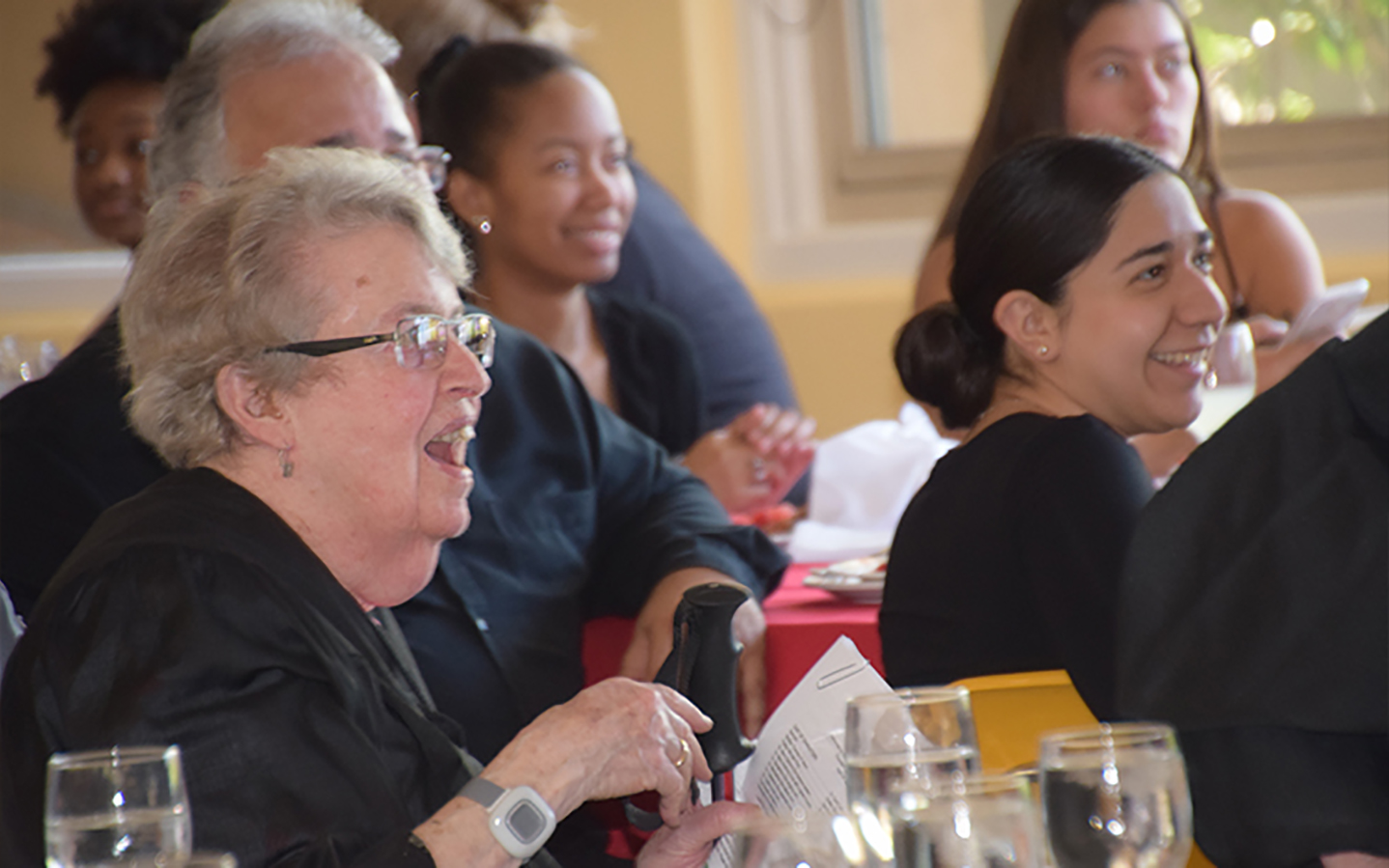 On April 24, the HNU community came together to celebrate Founders' Day, a gathering that honors the enduring legacy of the University's foundresses and pays tribute to staff and faculty that exemplify those Sisters' values.
The program was led by Sr. Carol Sellman, vice president for mission integration, a joyful narrator. She guided the audience and actors through a charming reenactment of the founding Sisters' journey from Quebec to California. Actors included Father Salvatore Ragusa, Sheila Gibson, Sisters Carol Nicklas '64, Sophia Park, Maureen Hester '57, Liz Adams '60, JoAnne Quinlivan '60, and Marcia Frideger '69. The performance was dedicated to the memory of Sister Chris Patrinos '81.
After the skit, Sr. Carol presented the SNJM Award, an honor bestowed upon faculty or staff members who exemplify the core values of the Sisters of the Holy Names. The 2019 recipient was Mio Matsuhisa, assistant dean of student affairs for budget oversight and international student services. The University also recognized employees celebrating service anniversaries in 2019.
The end of the program was bittersweet as six beloved and accomplished retiring faculty members were recognized for the many contributions they have made to Holy Names—the six combined have a tenure of over 185 years! Deep thanks, appreciation, and gratitude were shared in speeches given for: Ann Alderman, PhD, dean of the school of liberal arts; Sheila Gibson, PhD, professor of philosophy; Russ Jacobus, MBA, JD, assistant professor of business and MBA Program Director; Maria Mangini, PhD, FNP, associate professor of nursing; Marion Marshall, MS, associate professor of education and educational therapy program director; Rick Patrick, MA, professor of art.
In closing, each retiring faculty member was gifted with a framed word cloud composed of descriptive words that students and colleagues provided. And Sr. Carol announced that two benches will be installed in campus courtyards (St. Francis and the former Rose Garden) bearing plaques engraved with each retiree's name.
Stay tuned: A special tribute to these faculty members will appear in the next newsletter.