Going Virtual
How the Digital Learning Initiative prepared HNU for COVID-19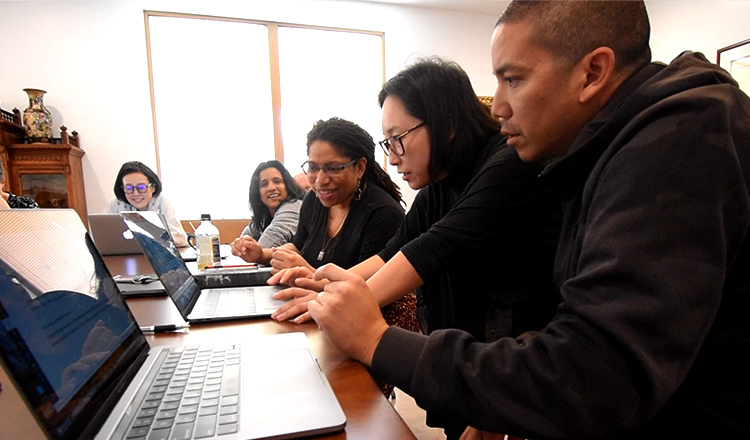 "Holy Names is the kind of a place where people smile and say "hello" as they pass, where students feel seen, supported, and inspired, largely because of that personal contact. How, then, do you recreate that one-to-one support in online classes? How do you translate the positively mystical Holy Names in-person experience into the virtual world?" asks Dr. Sheila Smith McKoy, Provost and VP for Academic Affairs. 
With the COVID-19 crisis forcing classes to move online and most students to move off-campus, the desire to create a holistic virtual education that not only mimics the in-person experience but expands on it is greater than ever. 
While many of HNU's programs are offered in a hybrid format that combines online and in-person coursework, only one program—adult degree completion in business—was fully online. The University's faculty and staff had to figure out, in only a few days how to move classes online.
"What I stress to faculty members when I show them how to use new software or build an online course, is that technology is just a tool, it's a way to enhance their practices of teaching and learning, not guide it," says Rex Ganding, Director of HNU's Center for Excellence in Teaching and Learning (CETL). 
CETL has taken a leadership role in helping faculty and students navigate the transition to an online learning environment.
"We are seeing our hard work from the past year—faculty training, online resource development, equipment investments—really pay off," Ganding explains. 
The CETL team, Ganding and Instructional Technologist Nobel Hadgu '19, were hired through HNU's Digital Learning Initiative. 
The 2018 initiative, funded in part by The Fletcher Jones Foundation and private donors, helped build the structure that has allowed HNU to adapt so quickly to the COVID-19 era of online education. 
The initiative is aligned closely with the University's recent strategic investments in technological infrastructure, such as fiber optic cables, an increase in internet bandwidth to 10 Gigabits (from 1 Gigabit), the launch of a virtual student portal, and a move to more centralized cloud-based systems.
These advancements made it possible for HNU to successfully move in-person classes online in just a matter of days.
"While this time is stressful and demanding, we are finding that it is also a moment of learning and creativity," said Dr. Smith McKoy. "We are seeing faculty and students connect in new ways and being excited by the possibilities. I truly believe that we, as an institution, will come out of this crisis stronger and more resilient than ever."