Class of 2020
Holy Names' alumni congratulate and inspire the graduating class of 2020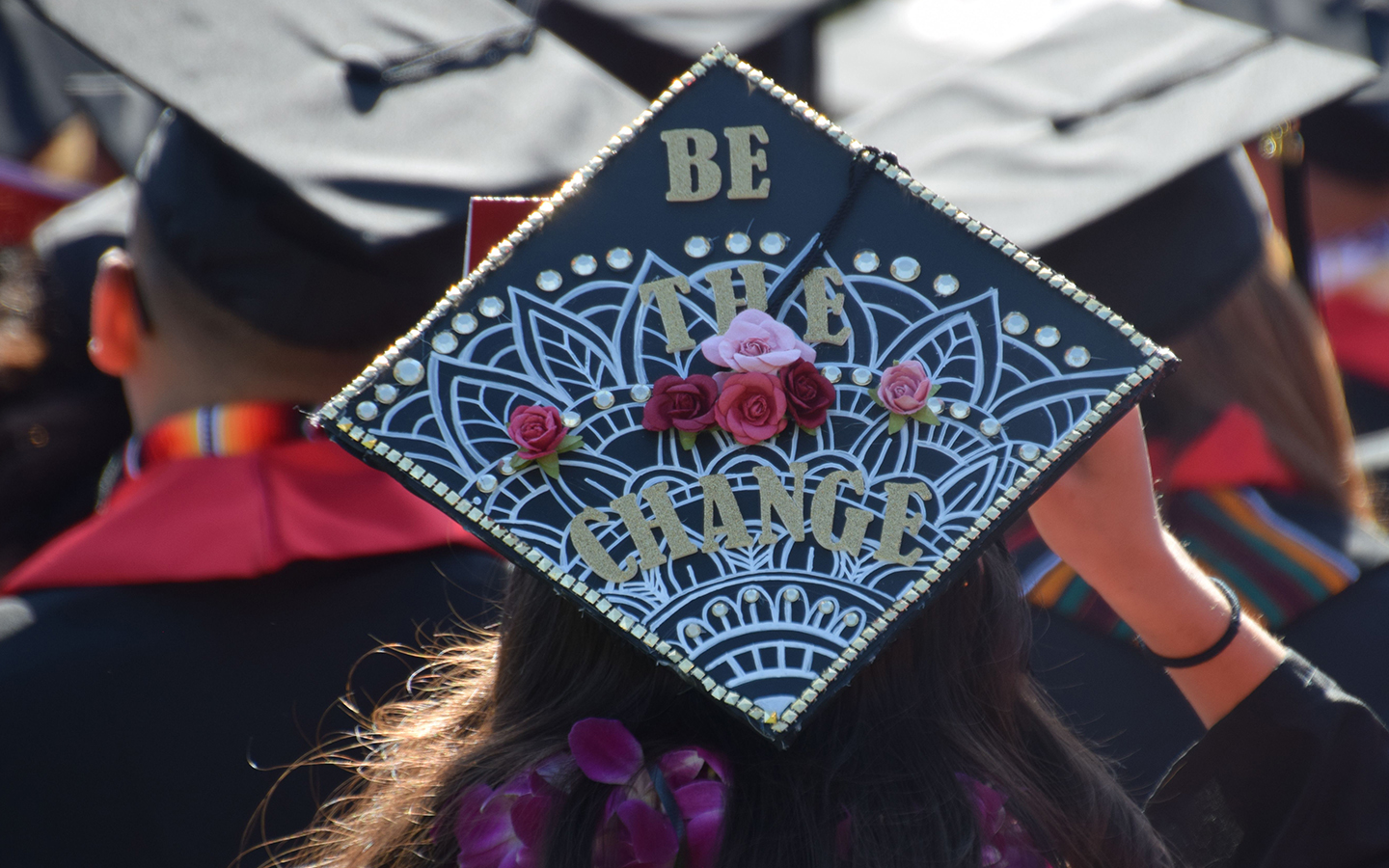 To help congratulate Holy Names' 2020 graduates on their remarkable achievement, we asked alumni to offer words of encouragement and inspiration. Here's what they had to say: 
"Congratulations, you have achieved one of your dreams. You will carry the spirit of HNU with you where ever you go. You are deserving of a great future and you have the tools to make it happen."
Keri Grunest Gill '89, MA '91
---
"Know that your HNU education has equipped you well for operating meaningfully in our world. As change is the only constant, meet our God there, and all will be well." 
Paula Pardini '67
---
"Be proud of yourself and your accomplishments. You are now a graduate and fellow alumni."
Jessica Pemberton '04
---
"You are coming of age in an amazing time. In spite of all of the loss, we are collectively experiencing there is opportunity. Seize the opportunity to work on your big dream. God bless."
Cheryl Vaughn '04
---
"You chose the right University and you will look back many times over your life and experience a tinge of gratefulness. Additionally, you will find yourself mentally checking in with HNU, your professors, and friends years from now for guidance and heartfelt memories."
Lynn Bennett Mullikin '78, MA '04
---
"Take time to think about the important things in life."
Miriam Daniel Fahey, SNJM '48
---
"My wish and hope for the Class of 2020 is that this abrupt and unforeseen crisis will not diminish your sense of fulfillment, and the pride that you richly deserve, at being a graduate of Holy Names University. May you carry the HNU spirit with you throughout your entire life, enjoying every day with strength and joy."
Diane Zennie Gilfether '63, MM '84
---
"Two things: This, too, shall pass and your Class of 2020 is unique to ANY class in HNU history!"
Thomas Kite, MM '77
---
"We are entering into a whole new world. Our society will change permanently from [COVID-19] in one way or another. Now that you have graduated, there are going to be jobs that no longer exist, and jobs that never existed that will emerge. Be creative, keep your head up, don't give up, and find something that you absolutely love to do. Take the time to find that passion and follow it through. Since this could happen again, and nothing is guaranteed, live every day for peace, joy, and happiness."
Shaun Leong, MEd '19
---
"Congratulations upon your accomplishments in spite of COVID-19 getting in the way this last semester. God bless."
Kathy Oliver '61, MA '71 
---
"Although the world has changed, there is a future. There are new amazing ways of thinking as collective and more opportunities to help one another! Opportunities to learn have become visible through all the trials, failures, and new ideas being shared across the globe. Your education has prepared you to learn from failure and to grow from it. Life continues to provide daily learning opportunities! Embrace them, acknowledge the failures, and continue forward. Each moment is a treasure. These times have taught us to slow down and appreciate each human with greater care and engagement."
Ursula Maria Sexton '80
---
"As a former VP of Human Resources, I encourage you to reach out to as many resources as you can to help and guide you. Networking really works. I know it first-hand."
Joanne Mahoney Carder '64
---
"Congratulations! You did it and should feel so proud of yourself. This is a challenging time and it will be a marker in world events and our future to come. Each and every one of you, dig deep and know you are leaders. The world needs strong leaders to inspire, build, teach, love, and discover. Remember the Holy Names Sisters who came from Canada to build our University. They were going out into the unknown. Yes, it must have been scary and challenging but it also was an opportunity. Use this time as an opportunity. Build upon the HNU Sisters' strength and leadership. We have faith in you. You, Class of 2020, are our future and we love you."
Karen Bauer '94
---
"Always strive to do your best."
Leila Abu-Hijleh '08, MA '15
---
"One of the great things that has come from [COVID-19] is the creativity people have found within themselves, and I task all of you, Class of 2020, to use this time to find your creative spark. To set goals for what is next to come for you. Life has not ended it is actually just beginning. We will forever be changed by this moment time and what you choose to do with that change is completely up to you. 
Find peace in the discomfort and remember what is most important is the knowledge you've gained, the experiences you've had, and the family and friends who still love, support, and cheer for you always. Congratulations! The future is bright and again, "this too shall pass."
Candice Lawscha-Cummings '14