Giving back
HNU Students Discuss Community Service Work in Tutwiler, Mississippi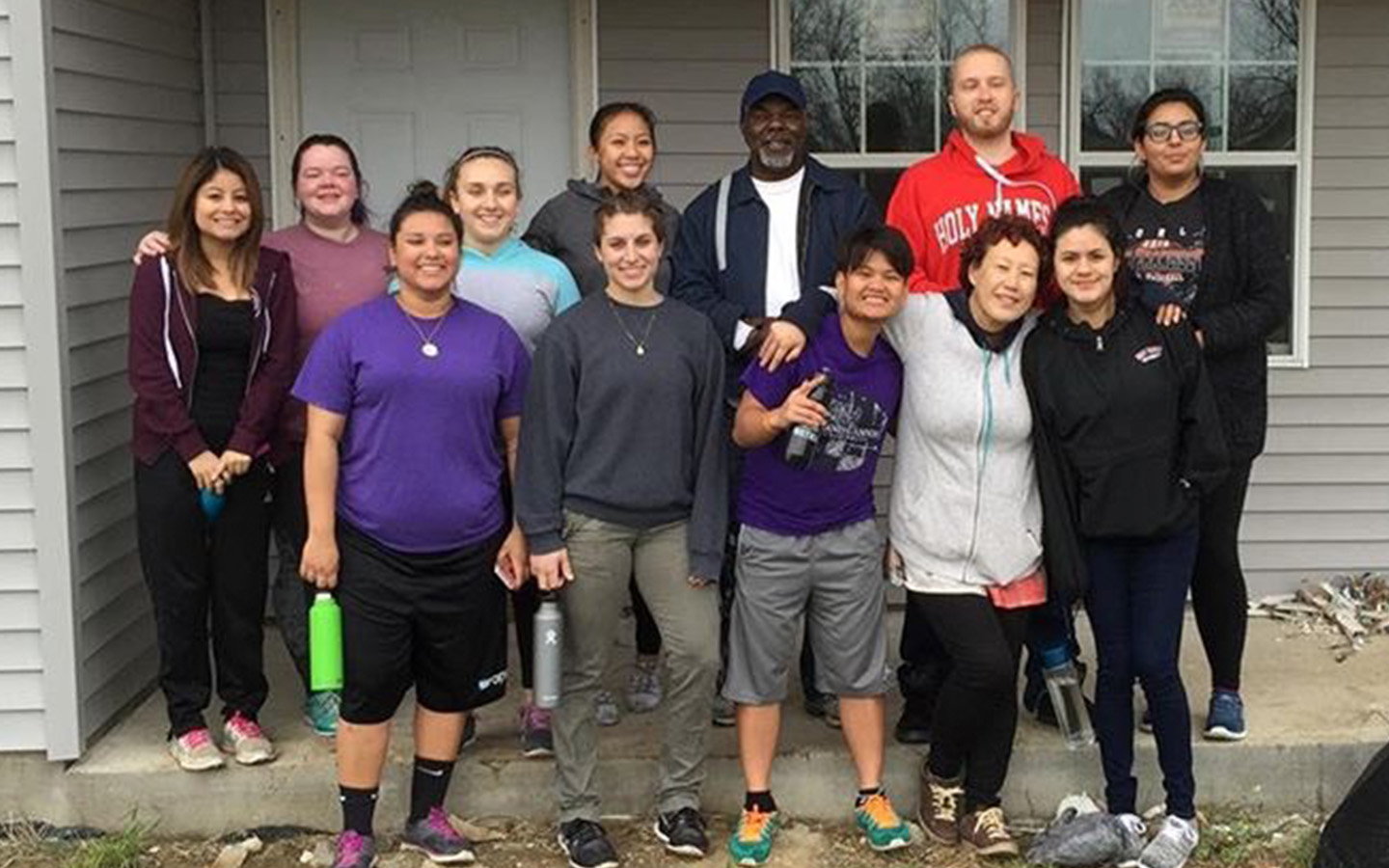 For the 13th year, HNU students traveled with faculty and staff to Tutwiler, Mississippi, to work with Habitat for Humanity to build a home for a community resident. About 39 percent of Tutwiler's population lives below the poverty line. Most residents of Tutwiler do not have easy access to educational facilities, employment opportunities, and health care.
The annual Tutwiler trip is coordinated through HNU's Center for Social Justice and Civic Engagement (CSJCE). As a part of the trip, students also visited several civil rights landmarks throughout the South, including the National Civil Rights Museum at the Lorraine Motel in Memphis, Tennessee, where Dr. Martin Luther King Jr. was assassinated, and the Sumner Courthouse and Emmett Till Interpretive Center in Sumner, Mississippi, which honors the memory of Emmett Till, a 14-year-old African-American boy who was murdered in Mississippi in 1955. The students also spent time at the Tutwiler Clinic, founded in 1983 by Sister Anne Brooks in Tutwiler, Mississippi, to provide care to local patients; and the Jonestown Family Center for Education and Wellness in Jonestown, Mississippi.
The 12 participants—which included Sister Sophia Park, PhD, Donna Dessart, interim associate dean and director of student success, graduate assistant Yadira Muñoz, and 10 HNU students—contributed several days of service to the Habitat for Humanity project.
In a presentation on March 29, the students who participated in the trip spoke about their experiences and what they learned while working in Tutwiler.
"I went to Tutwiler because I thought it would be a great experience to help a family in need," Jacqueline Lopez, an HNU sophomore, said. "I'm really glad that I went because I experienced a different part of the U.S. There are a lot of people who aren't as privileged as us, and it was very eye-opening to me."
Cathryn Hafner, a junior who's majoring in psychology and business, echoed Lopez's sentiments. "So, I was really glad I went to Tutwiler. I thought it was an amazing experience. I would recommend it to anybody. I would go again. I thought it was a really great experience and I had a really good time meeting all of these people, and all of the Tutwiler community."
In her remarks, sophomore Kristina Abella spoke about how the Tutwiler trip and its integration into the HNU curriculum had influenced her college enrollment decision. "The reason why I came to HNU was this trip. Ever since I was young I've always been about giving back, and building a home has been a huge thing for me. As soon as I found out that the school offered that, was kind of like the selling point for me. That was like a huge thing, so this trip was a big deal."
At the end of the presentation, the students took questions and comments from the audience. Leila Abu-hijleh '08, MA '15, assistant director of HNU's Upward Bound Project, offered her thanks to the students for sharing their thoughts and spoke about her own experience with the Tutwiler trip. "I was fortunate to be on the trip when I was a student here at HNU and it was one of my most memorable experiences," she said. "I recently met friends from my Tutwiler trip and we reminisced about the amazing time spent there. It is something that will stay with me for the rest of my life and with all the students that attend the Tutwiler trip."