On a mission of recovery and compassion: Sister Mary Rogers, SNJM '94, MA '00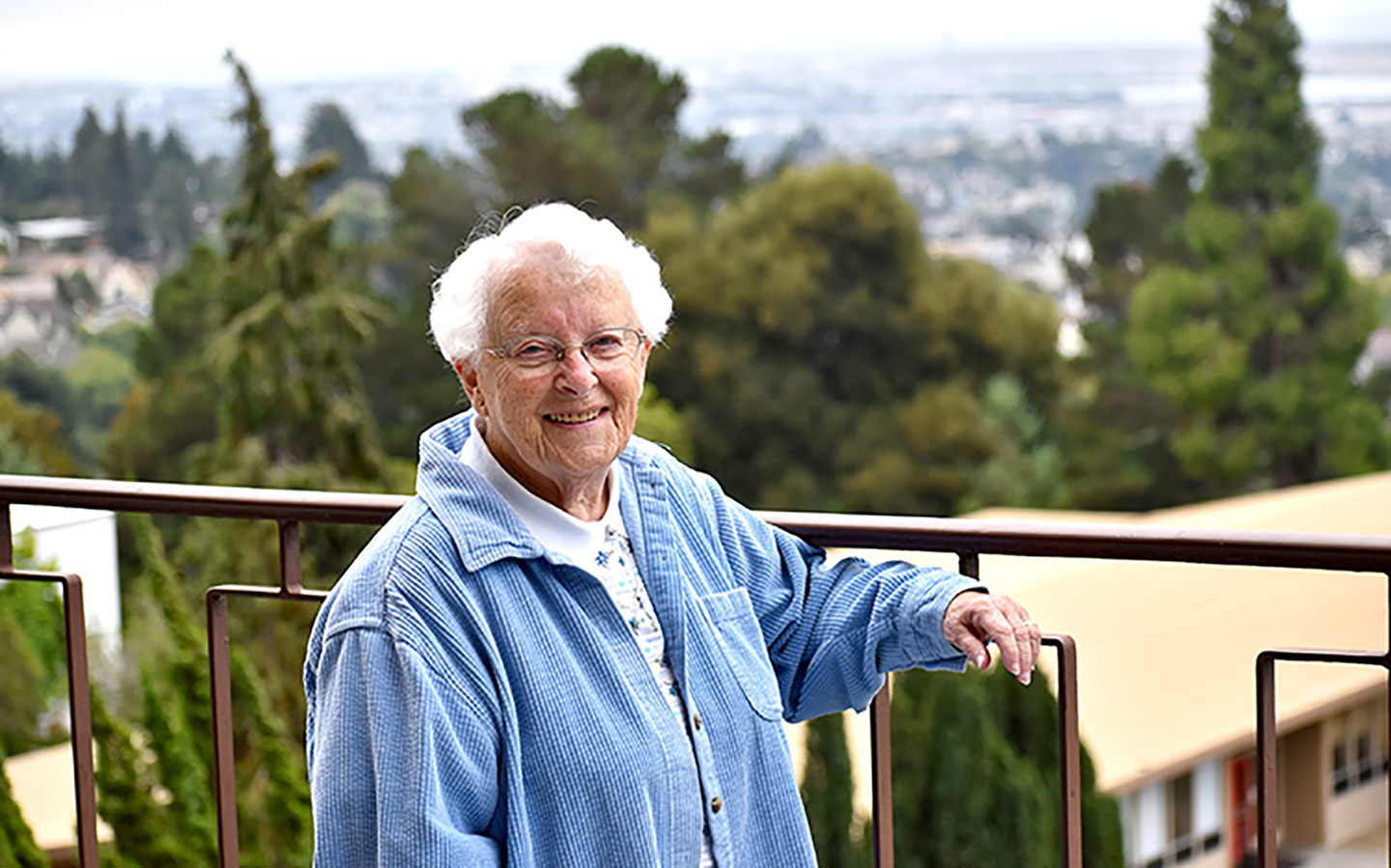 "It keeps me out of mischief," winked Mary Rogers, SNJM '94, MA '00 when asked about her 28 years of service as a Sister of the Holy Names.
Sr. Mary's mission—helping individuals recover from addiction—has led to a decades-long career working in recovery programs in Oakland and San Francisco.
Described by friends as a generous woman of few words and a youthful sense of humor, Sr. Mary has lived an unexpected and rich life.
Born and raised in Syracuse, NY, she got married at 22 and moved to Santa Barbara, California, where she and her husband settled down, and she began what was to become a decades-long administrative career at the University of California, Santa Barbara.
Her life took a turn when her husband suddenly passed away. While grieving, she found solace in her faith and started going to daily Mass at the local Newman parish.
It was during these daily communions that Sr. Mary first felt the call to become a Sister. "For years, I dismissed the idea as wacky—especially at my age [50 years old]," she recalled. "But it kept coming back and coming back. I finally decided I couldn't ignore it anymore."
She was introduced to the Sisters of the Holy Names by a mutual friend and they clicked. "The Sisters were open enough to consider accepting a woman who was much older into their community. I owe everything to them," she emphasized.
Sr. Mary proceeded to retire from UCSB—her first retirement—and moved to Oakland to enroll at Holy Names University (then College) as an undergraduate human services major.  At 55, she was beginning a new life journey: as an SNJM candidate and a student finishing up her bachelor's degree.
"During my time at Holy Names," she said, "I learned how to live in a community of Sisters—we lived together on campus back then—and I learned how to be a Sister."
After finishing her degree and making first vows, Sr. Mary began working at a residential recovery center for women in Oakland, called Chrysalis. Within a year the center lost funding and experienced cutbacks, leading her to take a job as secretary to the Provincial of the Franciscan Friars, Province of Saint Barbara, located in Oakland.
While working full-time, she decided to go back to Holy Names for a master's degree in counseling and forensic psychology, to compliment a certification as an alcohol and drug counselor she had received at UCSB.
"Pursuing a master's degree while working was probably insanity," Sr. Mary laughed, "but I thought it would help complete my work, and it did. In the program, I learned the most important thing: how to listen deeply."
The program inspired her to refocus her vocation and return to drug and alcohol counseling, specifically 12-step work.
She had helped design and conduct 12-step recovery retreats for Sisters and women in recovery, and was encouraged by the SNJM community and the Franciscan Friars to do similar work at the St. Anthony Foundation in San Francisco.
She became the first—and for a rather long time—the only female intake coordinator and counselor at the Father Alfred Center (FAC), a component of the St. Anthony Foundation, a residential facility for men seeking recovery from alcohol and drug addiction. Sr. Mary noted, she had never had so many men in her life!
In her 15+ years at the FAC, she connected with hundreds of men that were struggling with addiction, mental illness, and homelessness, and trying to make a change.
One of the criteria for admission to the FAC is that the client has no source of income. Thus, 99% of the men she worked with were homeless and from the street. In doing group work with them over the years, Sr. Mary realized that many, if not most, had a very poor childhood. One of her first clients, a great big guy, asked her, "is it true that I'm a mistake?" He'd been told his whole life that he was.
"These problems are multi-generational and won't just go away," she said. "As a society, we can't look the other way. I believe every person deserves to be loved, supported, and affirmed. These are our brothers and sisters. We need to help them."
Since her recent retirement, she hasn't slowed down much. Sr. Mary goes each Monday to FAC to work with the clients there. She also occasionally conducts groups at St. Mary's Center in Oakland.
She mused, "Sisters don't retire; they just serve in a different way. It's important to me to stay connected, so I'll keep doing [this work] as long as I can."