Make music while sheltered-in-place
The Sing, Play, Move! YouTube channel offers music classes and more to a global audience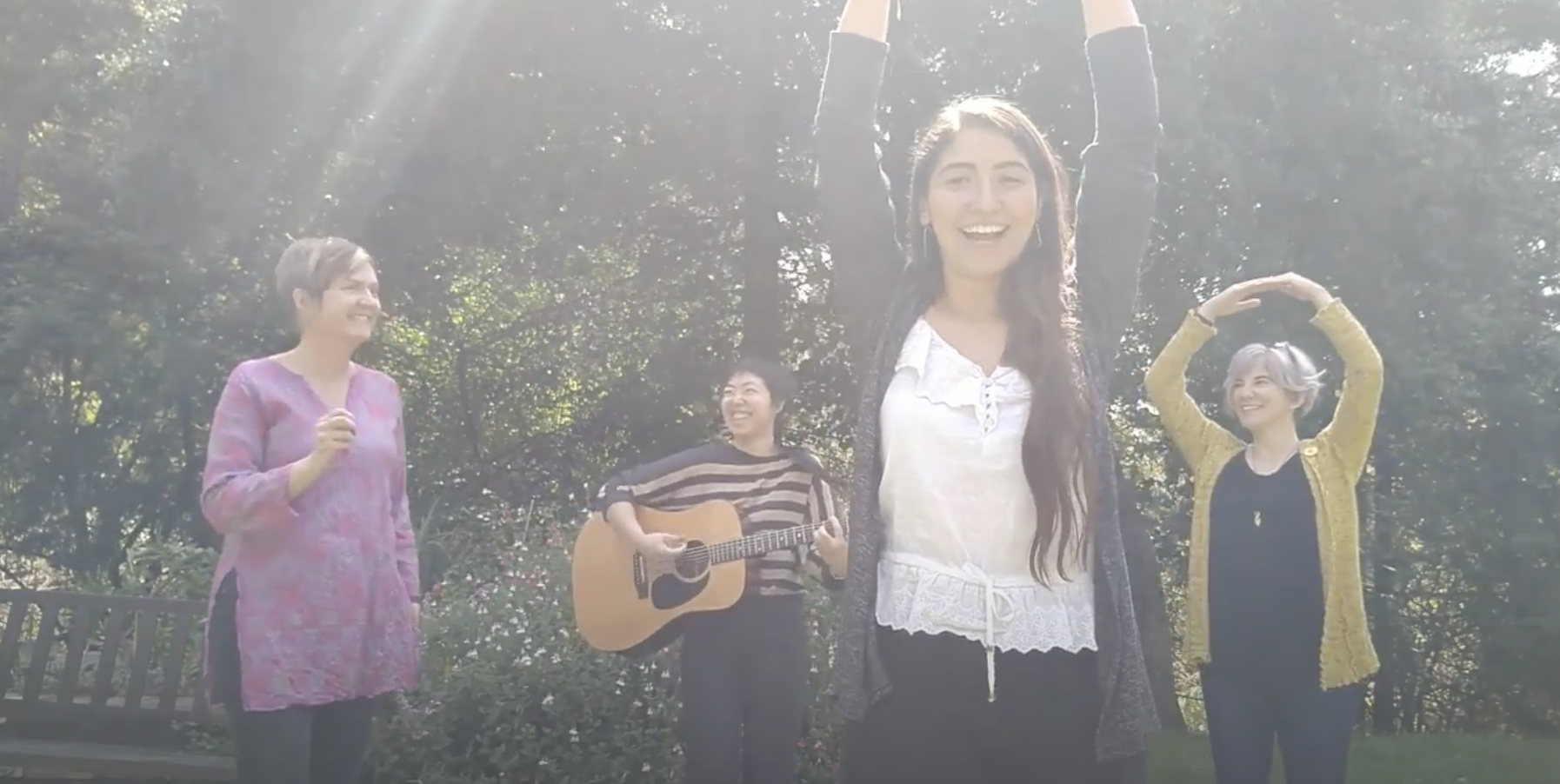 For kids and caregivers who want to have fun developing their music skills while sheltered-in-place, the HNU Sing, Play, Move!  YouTube channel is a popular choice. During the COVID-19 crisis, the channel has become a resource for international teaching programs and children's music groups. 
Modeled after HNU's Preparatory Music in-person classes for children, the channel's content is age-appropriate and focuses on play as the medium for musical growth. Creative songs, games, and activities are posted regularly by Kate Arbelaez, MM '20; Masumi Hayashi-Smith, MM '16; Lisa May, current MM student; and Maree Hennessy, Director of the HNU Kodály Center.
"Children learn to live and think musically in simple yet sophisticated ways when they sing, play, and move. We believe that foundational immersion and understanding of music skills are a crucial first step to learning a musical instrument and can increase a child's emotional stability. It's never too early to start developing a life-long love of music," said Katherine Baird, Director of HNU's Preparatory Music Program. 
Baird emphasizes that caregivers are children's first model, "Singing together at home is key to fostering language, socialization, creativity,  as well as important musicianship skills. The videos and in-person classes give caregivers a fresh repertoire for at-home learning." 
Hennessy adds, "Daily music-making in the home is a wonderful way to bring families together as well as nourish and support the intellectual, social, emotional, and physical growth of young children."
In this climate of isolation, and in the spirit of generosity, the channel is freely available. It has been shared extensively on social media and is used around the world. 
Hennessy states, "This resource was primarily designed to support the families of Sing, Play, Move! but we now use it in the Master of Music program as a training tool. Additionally, various domestic and international teacher training and early education programs use the channel as a recommended resource, including Edith Cowan University in Australia. The  National Youth Choir of Scotland has incorporated the channel into their shelter-in-place resource bank for families of their young choristers, who are practicing from home."
Sing, Play, Move! is part of a four-year collaboration between HNU's Kodály Center and Preparatory Music Programs.  Master of Music Education students, training to become music teachers, observe and participate in Sing, Play, Move!; adult sight-reading classes; musicianship classes for older children, and string group classes. Together, the collaboration has reached over 150 Oakland families and assisted many teachers in their training, 
Through the Sing, Play, Move! channel our community here in Oakland, and beyond, can continue to make music together while sheltered-in-place. 
Click here to visit the Sing, Play, Move! YouTube channel
---
For more information on the Sing, Play, Move! program, contact Katherine Baird at baird@hnu.edu
Sing, Play, Move! is a weekly on-campus music program for babies and young children, with 4 classes for different age groups (infants-12 months, 12-24 months, 2-3.5-year-olds, and 3.5-5-year-olds). The program is offered through the popular HNU Preparatory Music Program. The instructors are highly trained musicians and pedagogues, who have developed videos as an online resource to support caregivers as they sing, play, and move at home with their little ones.