Soul Sisters: Hospitality and History at Holy Names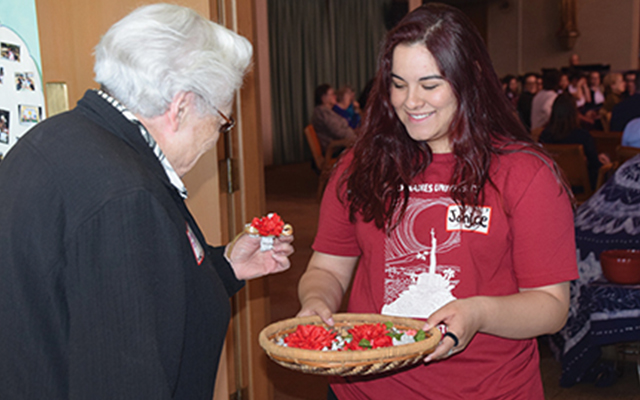 Hospitality is one of the core values of the Sisters of the Holy Names of Jesus and Mary and a trademark of the educational institutions they founded. On March 14, Holy Names University expressed that radical hospitality by inviting HNU alumni and friends, Holy Names High School (HNHS) students, and Holy Names Sisters to campus for a special liturgical celebration and storytelling event.
The celebratory Mass, held in the University's McLean Chapel, was dedicated to the SNJMs and their 150-year history in Oakland. The HNHS Belle Tones vocal ensemble performed special musical numbers alongside HNU's Martin McGinn and Julio Reyes. Sr. Carol Nicklas shared poignant insights and memories from her time serving at Holy Names institutions during the liturgy.
After Mass, the congregation was directed to a reception area to eat, drink, and learn from each other through conversation—as part of the Soul Sisters Hospitality project, a storytelling event envisioned by Campus Ministry staff and students and funded with a grant from National Catholic Sisters Week.
The project partnered each Sister with an intergenerational group of high school and university students and encouraged them to spend time conversing with each other. Student volunteers were trained to lead the dialogue and engage the groups in unique and fun ways. Video clips of the event were showcased on the University's various social media platforms.
"I was inspired by the stories I heard from the Sisters. It gave me an appreciation and living understanding of all the different ways the Sisters have served educational communities over the years," said HNU student Clarisse Day.